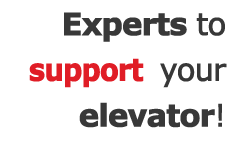 Welcome to Valsamidis Group of Companies
The Group's companies specialize and support all types of elevators, moving walkways and escalators. We undertake the study, design, manufacture and installation of new lifts. In addition we provide integrated After Sales services and support.
Valsamidis S.A. guarantees its products and services and ensures your safety. Whether you are looking for the ideal partner for maintenance or repair your elevator, whether you seek solutions to renovate and modernize an old elevator we have the knowledge and experience that you can rely on.